A New South Wales post office has raised a few eyebrows after they posed a job ad which refused to let 'entitled' young people apply.
The Warilla Licensed Post Office, located in Shellharbour, shared the listing on Seek for a Retail Traineeship.
The privately owned and operated post office say they are looking for an "enthusiastic person" of "either gender" who has a "great work ethic" and is "interested in a customer-focused job" for the full-time position.
The successful candidate must be "able to interact with a wide range of customers", "honest and reliable", "able to work in a team environment" and "eager to learn and able to take directions".
However, one line at the end is what has caused outrage, with the poster saying "Unfortunately, the successful applicant will not be an over entitled millennial with an inflated sense of entitlement.''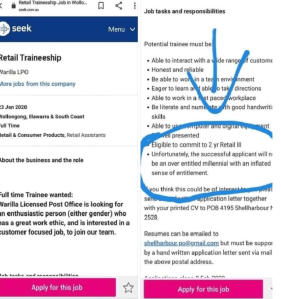 The line has since been removed.
Most of the backlash has come in the form of negative Google reviews, with one person posting that, "Not only is it discriminatory but it also shows that the employer is … horrible to work for."