McDonald's has today announced it has banned the use of reusable coffee cups at all its restaurants due to the Coronavirus outbreak.
Customers will still be able to purchase their favourite beverage but will not be able to hand over their own cup.
Stores have placed signs up saying "under request by head office, we are unable to use any keep cups until further notice. Sorry for any inconvenience caused'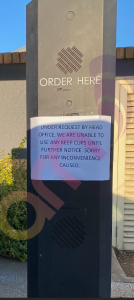 In a statement, a McDonald's spokesperson said "At McDonald's, the safety of our customers, people and the food and drinks we serve is of the utmost importance.
"We have made the decision to suspend the use of reusable coffee cups at restaurants across the country at this time."