Georgia Rochelle was just looking for something to wear.
The 23-year-old hit-up her local Kmart but found that their plus-size selection was "half a rack of ugly clothes" behind a heap of rows of smaller sizes. When it came to activewear, nothing fit her at all.
Disappointed, she decided to message Kmart via their Facebook page.
Kmart's initial response was pretty standard, asking for more feedback to improve their range. NBD, right?
Nek minnit…
A follow-up email took on a decidedly different tone.
"While we try to cater for as many people as possible please understand people come in all shapes and sizes and we can't cater for absolutely everyone," a Kmart customer service rep wrote.
"It is not entirely our job to make you feel good about yourself."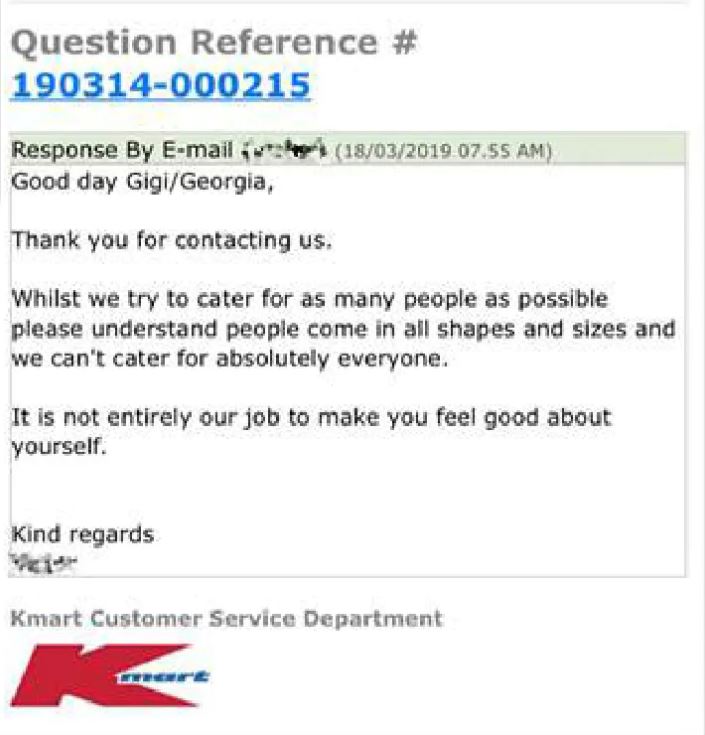 "Honestly, I was shocked," Georgia told news.com.au.
"I asked a simple question and his words made me feel like I was in high school again."
Thing is, Georgia's happy with her body, she was just looking for some new threads. In news.com.au's words: she's not embarrassed — she's angry.
"It's so insulting I can say something about there being a limited range for plus-sized people, and they acquaint that with feeling bad about my body, which isn't the case at all," she told news.com.au.
"I don't think your size is something to be embarrassed about. All it shows is that prejudice (against fat people) doesn't go away — even when you're supposed to be professional."
Georgia decided to pop the response up on her socials, and the backlash was pretty swift.
"It's not even got anything to do with not feeling good about yourself. It's literally about not having anything to f***ing wear because big companies only care about selling straight-sized clothes."
"You don't deserve any of this. All you wanted was to know where to find your size."
Of course, this is the internet, so some of the comments took aim at her size, but Georgia wasn't having it, especially when commenters zeroed-in on her 'health'.
"If you really cared about our health, you wouldn't be making disgusting comments, and you'd take mental health into consideration. Someone else's health is none of your business anyway."
"Let people live and let people feel good about themselves. Stop assuming that fat people hate themselves, just because you think we should."
Want more? Here's a bit we love from Will & Woody – catch the boys weekdays from 4PM on KIIS101.1!