Sarah Hill, a 28 year old mum from New South Wales, has the internet talking after she shared her incredible transformation photos to Facebook.
After following what she has named the Kmart Diet, Sarah has lost an incredible 42kgs.
Speaking with news.com.au about her post, Sarah said she was so proud of herself for "working my butt off" to lose the weight.
"At that size, my options were so limited, it was really hard to pick up an affordable outfit at Kmart or Target."
"I would walk into Kmart, see all the gorgeous clothes I desperately wanted to try on and just keep walking straight to the plus-sized section."
"When you're in a relationship, prioritising your health goes straight out the window."
"I just wasn't myself, mentally and physically, and I wasn't giving my all to daughter Abby."
Sarah weighed 130kgs when she ended the relationship.
"It was the biggest I had ever been, and it was terrifying."
"It was really the tipping point for me."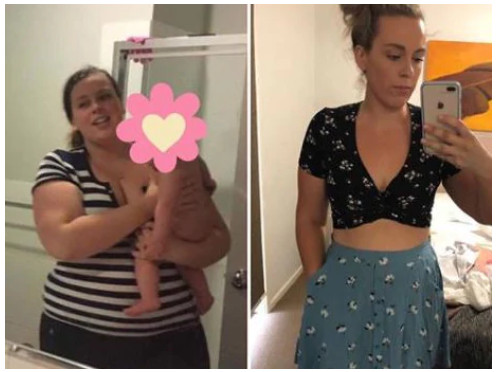 Image: news.com.au
Sarah joined a local free bootcamp and went to four classes a week, with her daughter Abby alongside her in her pram.
"When you're the biggest and slowest person by far, all you're thinking about is how everyone was probably judging and laughing at you."
"It was embarrassing for me to put myself out there, but I just told myself that everyone has to start somewhere."
Sarah's main motivation for losing weight was to be able to fit into the Kmart clothes she'd always admired but was never able to wear.
"I paid attention to what I was putting in my mouth and was being as active as I could."
After losing 42 kgs, Sarah went down to her local Kmart store to try on her first new outfit.
"I would usually wear jeans all summer, I never wore shorts or revealing outfits." she said.
"So when I tried on that midriff top and skirt, and realised it was a Size 12, I couldn't believe it."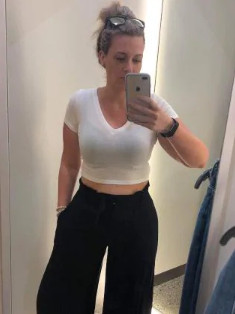 Image: news.com.au
"I wanted to be able to walk into a store that wasn't a plus-sized shop, see something cute, get it in my size and feel confident in it."
"That's just not something you can do when you weigh 130 kg. It's an entire process to go shopping."
"It was the first summer outfit I had worn where I felt confident showing a little bit of skin. I felt like a young woman again, and I can't describe how happy that made me."
Want more? Here's a bit we love from Will & Woody – catch the boys weekdays from 4PM on KIIS101.1!