In the midst of people panic buying right across Australia amid the coronavirus outbreak, all of our big supermarkets have joined forces for a very important reason.
Woolworths, Coles, ALDI and IGA have all banded together this morning to post an important message to all Australians in The Daily Telegraph this morning.
If you pick up a copy of the paper today, you'll notice a full page message from them on the second page that is titled, "Working together to provide for all Australians".
What follows is a letter to all customers reminding them to think about others during this challenging time.
"To all our customers," the letter begins. "Through these challenging times, the aim of every Australian supermarket is to provide you and your family with the food and essentials you need."
They said that they are all working together to make sure that the wellbeing of Australians and their teams is the highest priority. This message comes after numerous fights have broken out in stores as people continue to panic buy essential items.
"Our suppliers and teams are doing everything possible to get as many products onto all our shelves as they can, often under very difficult circumstances.
"So we are you to please be considerate in the way you shop."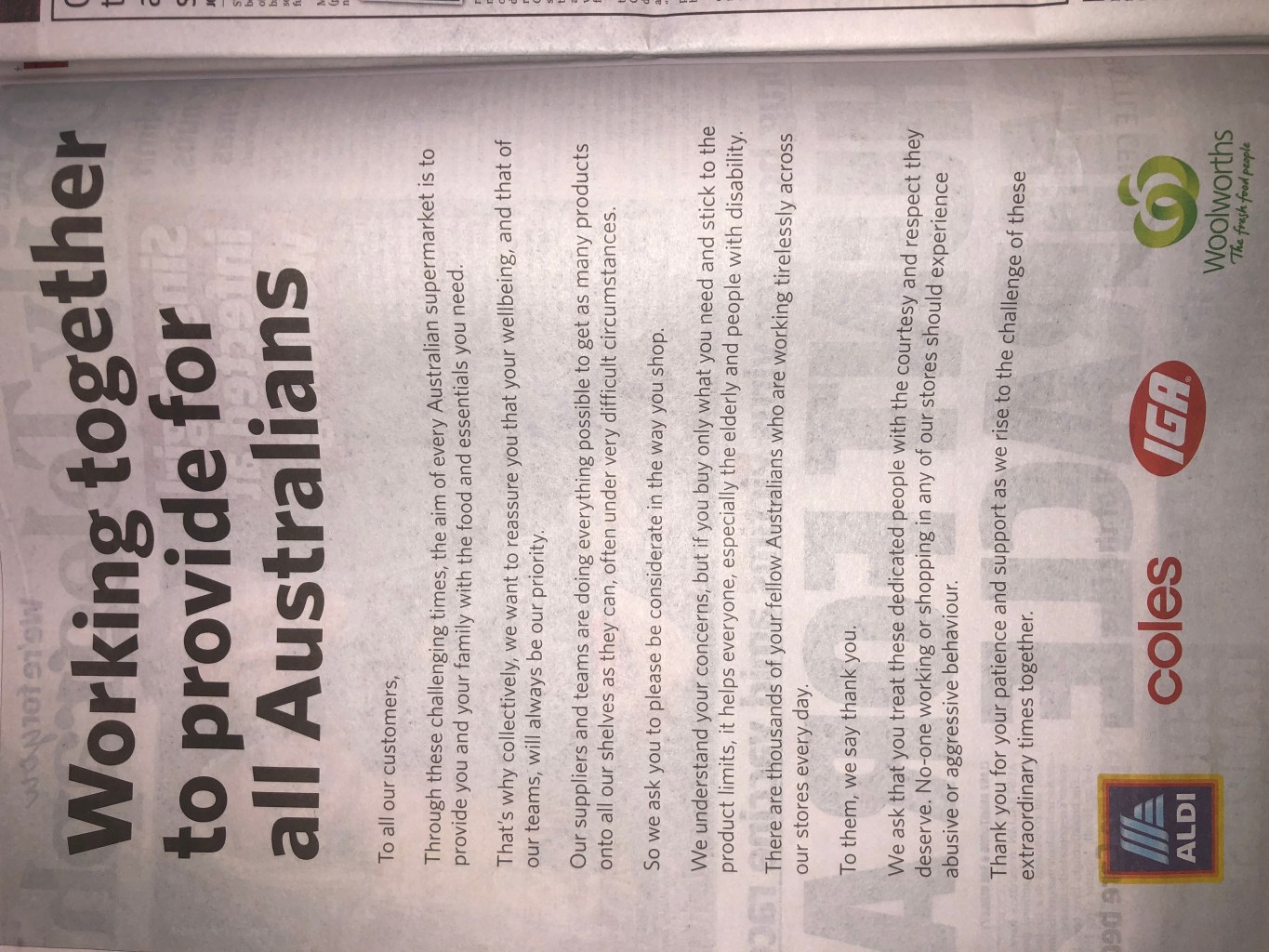 So how can we be more considerate? The supermarkets ask that we really think before buying multiples of items, and only buy what we actually need so that there is enough products for everyone.
"It helps everyone, especially the elderly and people with disability," the message continued.
They also thanked their hardworking staff for working tirelessly amid this busy time.
"There are thousands of your fellow Australians who are working tirelessly across our stores every day. To them, we say thank you.
"We ask that you treat these dedicated people with the courtesy and respect they deserve. No-one working or shopping in any of our stores should experience abusive or aggressive behaviour.
"Thank you for you patience and support as we rise to the challenge of these extraordinary times together," they concluded.
It really is such an important message. During a time of such unknown, the one thing that we can all easily do is practice thoughtfulness and kindness.
In Australia, something that we've always been known for is our mateship. Lets not let this change during this time.
Stay safe and be kind everyone!
Want more? Here's one of our fave moments from Jase & Lauren – they're always up to something! Weekdays from 6AM on KIIS 101.1!