Chocolate fans have been left furious after Toblerone increased the gaps between the bar's iconic triangular peaks as a cost cutting measure to reduce the weight.
The change is only happening in the UK and was taken following the higher import costs for ingredients such as cocoa since the UK decided to leave the European Union.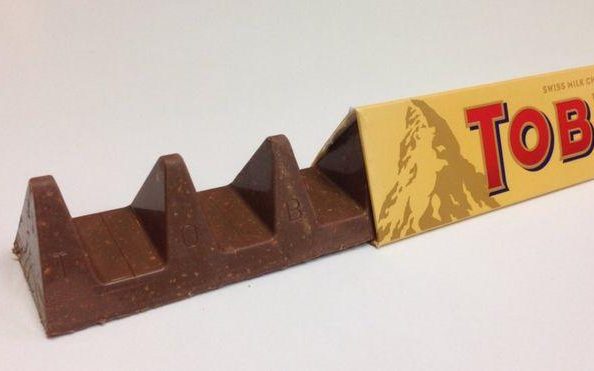 The company that own Toblerone and Cadbury, Mondelez, denied that the change was due to 'Brexit', but pointed out the exchange rate was 'not favourable'
The move by the company, formerly known as Kraft, has resulted in the weight of the 400g bars being reduced to 360g and the 170g bars to 150g, while the price remains the same.
Britains took to social media to voice their 'disgust' at the bigger spaces between the Toblerone peaks, although the packaging will remain the same size.
Comedian Ricky Gervais led the outrage, saying: 'First Brexit and now this.'
First Brexit & Now This
Toblerone triangle change upsets fans https://t.co/u8vitSVUu0

— Ricky Gervais (@rickygervais) November 8, 2016
One shared a picture of the new chocolate bar and said: 'I've been to funerals less upsetting than this'.
Josephine tweeted: 'First marmite, now toblerone. Brexit is taking away everything I love.'
Hi @Toblerone I opened my chocolate and noticed half the triangles are missing. Can you please post them to me? Thanks! pic.twitter.com/X8aYljFr0X

— James Adams (@jamesradams) November 7, 2016
Alistair Calder wrote on Facebook, saying: 'Utterly ridiculous decision!! Make it shorter or make it more expensive – much more honest.'
Dan Rickwood wrote: 'Hi Toblerone, I am one of your biggest fans and love your chocolate, but I bought a 150g toblerone earlier only to be left upset disappointed and a little distressed!
Mondelez has not yet confirmed whether the changes to the Toblerone bar will be rolled out to other countries.
I love the British. 'Yeah there's a vote, but the toberlone has changed' pic.twitter.com/839h75kv5s

— Josh Ashdown (@ashmore_) November 8, 2016
In a statement, the owner said: 'Like many other companies, we are experiencing higher costs for numerous ingredients.
In other #toberlone observations – does anyone else injure their mouth from the pointy triangle every time they eat one? No, just me …..

— Charlie O'Brien (@charlie_radio) November 8, 2016
Toblerone was invented in Switzerland and is still made in the capital, Bern.
Want more? Here's a bit we love from Will & Woody – catch the boys weekdays from 4PM on KIIS101.1!