A mum has unleashed on UK grocery heavyweight Tesco after her bag of alphabet-shaped potato chips didn't contain the right letters to spell her son's name.
Nichola Hart, 30, said she was left 'very disappointed' after tipping out all the potato letters from the pack she found no 'L' and 'O' to correctly spell out 'Logan'.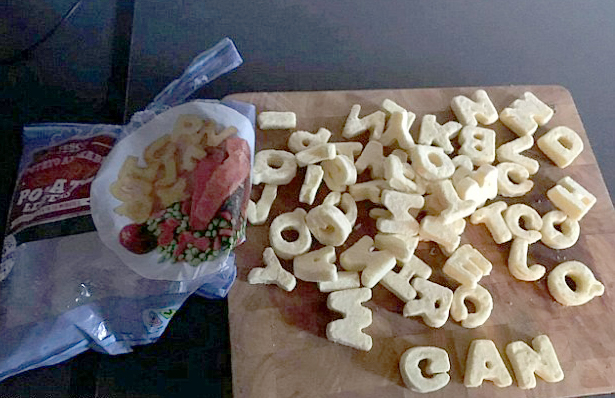 She had improvised by using an 'I' in lieu of the 'L' and a 'C' instead of an 'O', but said her son had spotted the mistake.
So incensed was Ms Hart, she took to the company's Facebook page.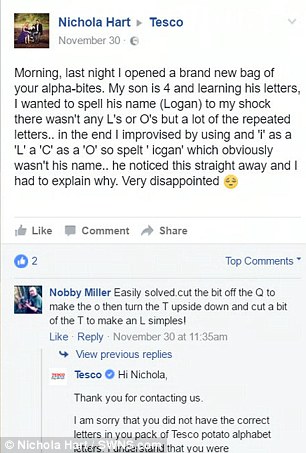 Tesco responded to her complaint in classic British fashion, that they were sorry she was "disappointed with the range of letters".
"The bags are packed with a random selection of letters, and we don't state that you will get every letter…I apologise for any disappointment this causes."
But Ms Hart was not satisfied and continued with her complaint, which has since been taken down.
"It is misleading, why would you sell them as alpha-bites, really they should just be called 'certain letter bites'," she reportedly said.
"Obviously the person who made these from Tesco can't have children."
Ooof.
"Apparently it does say on the packet that not all of the letters are in there, but again I don't see the point in that."
Of course, Twitter loved it.
Should have just used a "T" and a "Q" and cut bits off. Job done. God damn nuggets, alphabites and beans sounds good though #KidDinners pic.twitter.com/WvNWjTsqw5

— Craig Moore (@craigmoore02) December 6, 2016
Top tip : Parents! Call your child "ICGAN" so you can easily spell its name out with alphabet potato shapes @TwopTwips

— Rich 'favus' Smith (@mrfavus) December 6, 2016
To be honest most sensible people consult a bag of potato shapes *before* naming their child pic.twitter.com/0eoQDFxsZq

— robin peters (@robintweeters) December 6, 2016
Evening Times