Well this morning we thought we'd just about died and gone to heave while scrolling through our Instagram feed.
A post that peaked our interest (and our appetite) was one from McDonald's Australia that appeared to be launching a new burger!
But this wasn't your average meat based burger… This burger was one dedicated entirely to arguably the best ingredient of a Macca's burg, the pickles!
With ketchup, cheese and layers upon layers of pickles all loaded up on a sesame seed bun, the McPickle was born, and we couldn't have possibly been more excited.
"Pickle lovers, it's the news you've all been waiting for. We're super stoked to announce the launch of our brand new McPickle Burger," wrote McDonald's on Instagram.
"It's sure to be a treat for all your senses."
But then our joy came crashing down.
The Macca's account also added a comment to their post saying, "Available until yesterday".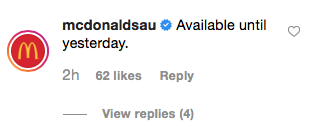 That's right, in a cruel twist the McPickle was all part of an April Fools Day joke!
How cruel Macca's. Funny, but cruel.
How good would it be if this burger actually existed though? Maybe once they see how excited we all were about it they'll create one for real!
Want more? Here's one of our fave moments from Jase & Lauren – they're always up to something! Weekdays from 6AM on KIIS 101.1!