If you're a person that likes super soft, melt in your mouth, easy cookies, these are for you.
These cookie cups are ready from start to finish in 20 minutes!
First trick of the trade when baking these cookies… use a muffin tray!
You'll need:
1/2 cup unsalted butter, melted
1 large egg
3/4 cup light brown sugar, packed
1/2 cup creamy peanut butter (I recommend storebought and not homemade which is much runnier)
1/4 cup granulated sugar
1 tablespoon vanilla extract
1 1/2 cups all-purpose flour
1/2 teaspoon baking soda
pinch teaspoon salt, optional and to taste
1 1/2 cups semi-sweet chocolate chips, divided
Method:
1.Preheat oven to 350F and spray a 12-count standard-sized muffin pan extremely well with floured cooking spray or grease and flour the pan (I prefer cosmetically to not use liners); set pan aside.
2.In a large, microwave-safe mixing bowl, melt the butter, about 1 minute on high-power.
3.Wait momentarily before adding the egg so you don't scramble it. Add the egg, brown sugar, peanut butter, granulated sugar, vanilla, and whisk until smooth.
4.Add the flour, baking soda, optional salt, and stir until just combined; don't overmix.
5.Stir in 1 1/4 cups chocolate chips; reserve remainder to place on cookie tops before baking.
6.Distribute dough equally among the 12 muffin pan cavities; each will approximately be filled to about three-quarters full. The cookies don't rise much (nothing like muffins) so it's okay if dough seems high in the cavities.
7.Evenly divide remaining 1/4 cup chocolate chips by placing a few chips on each cookie top, which creates a nice visual appeal.
8.Bake for 11 to 12 minutes, or until tops have set and are pale golden. A toothpick inserted in the center should come out clean or with a few moist crumbs, but no batter. Depending on your climate, muffin pan, brand of ingredients, taste preferences, etc. baking times will vary. Watch your cookies and not the clock; bake until done. Allow cookies to cool in pan for at least 15 minutes before removing them. If they have stuck to the pan, gently wedge the tip of a soft spatula into the muffin cavity to dislodge the cookies, rather than rimming with a knife so you don't scratch your pan. Cookies will keep airtight at room temperature for up to 1 week or in the freezer for up to 6 months.
Recipe By Averie Sunshine
http://www.averiecooks.com/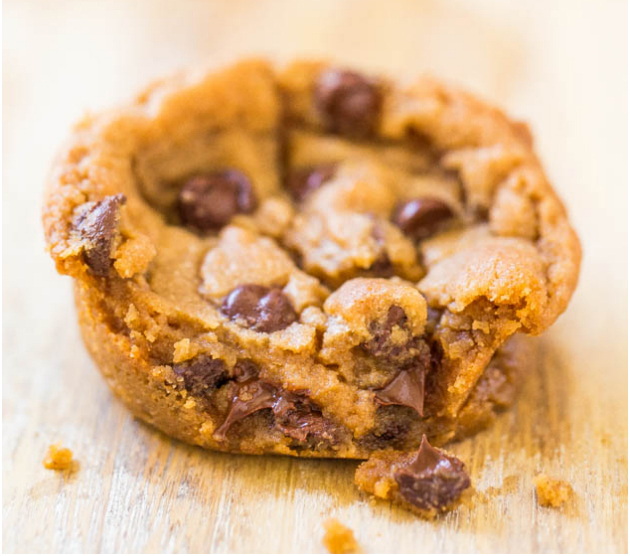 Want more? Here's a bit we love from Will & Woody – catch the boys weekdays from 4PM on KIIS101.1!