There's less than 19 weeks to go until Christmas, and we're already getting a taste of the festive season!
The humble fruit mince pie is hitting shelves today in the lead up to the holiday.
Product Developer for Coles, Liz da Silva, said the concept to bring the treats out early came when the bakery team notices that a majority of the pies sold last year (50.8%) were bought before December.
"People clearly don't want to wait for a little taste of Christmas, and we believe this season's pies are the supermarket's best yet.
"This year we've packed in even more fruit – more than twice as much as last year – inside a melt-in-your-mouth shortcrust pastry," she said.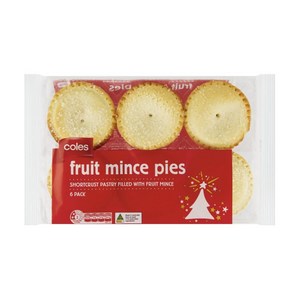 Ms da Silva is confident that customers will go with Coles fruit mince pies over the competition.
"Being able to resist them until Christmas? Well, that's a tougher challenge."
"We're so proud of these fruit mince pies we just had to let our customers try them as soon as possible – not only to enjoy early, but we know that people like to spread out their costs by buying what products they can further out from the big day," she said. "And there's nothing wrong with a little taste of Christmas to help get you through that last little stretch of a long winter."
Coles' Christmas Fruit Mince Pies are now ready to buy in a half dozen pack for $2 at Coles supermarkets right across the country.
Want more? Here's one of our fave moments from Jase & Lauren – they're always up to something! Weekdays from 6AM on KIIS 101.1!