The portrait of Tennis World No. 1 Novak Djokovic, signed and endorsed by the tennis superstar, is now up for auction for charity.
Artists Mark Lobert and Candice Thomas worked through the early hours to create this astonishing portrait over the two weeks when the tennis superstars were quarantining in the Majestic M Suites in North Adelaide, which gained the attention of the tennis great.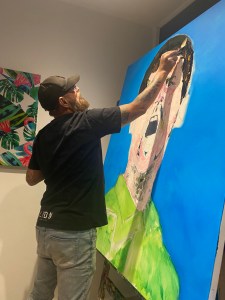 Novak Djokovic complimented the piece saying "it depicts the moment on the court perfectly. I think that's probably one of the best on-court, passionate paintings I've ever seen."
Novak Djokovic has personally signed the artwork which is now up for Auctions on Scammells. Accompanying the incredible artwork, the auction winner will have a 2-night stay at the Majestic M Suites. In the luxurious Spa Suite, you will have late check-out and gourmet hamper filled SA products.
The auction will go for another 18 days with the money raised going directly to the Australian Tennis Foundation (ATF) which is Tennis Australia's Official Charity and aims to inspire brighter futures for children and young people.
Check out the auction here.
Want more? Here's one of our fave moments from Jase & Lauren – they're always up to something! Weekdays from 6AM on KIIS 101.1!