Ever complained about not having enough room at home? We're about to make you appreciate that space so much more!
Introducing the New York apartment so small "you can't have three friends over at the same time".
After being advertised in June, the tiny apartment measuring approximately 2x3m has been rented out for $1,498 a month.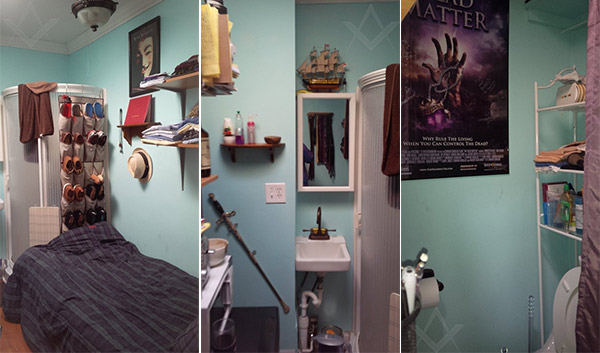 So exactly how small is it?
Well according to the original advertisement:
– This apartment is so small, you can't have three friends over at the same time; one of you will have to wait outside in the hall.
– It's so small you can't gain weight once you move in.
– It's so small there's a bumper on the front door to keep it from hitting the back wall.
– It's so small you have to move the bed just to open and close the front door.
– It's about 100sf, with the main room perhaps 7′ x 11′, plus a bathroom, NO KITCHEN OR STOVE, and the shower next to the sink. And fortunately, only this bullet point is true.
You may be wondering why anyone would be willing to live here. Well according to new tenant Grayson Altenberg it all has to do with location.
"Commuting an hour and a half or walking five minutes to work was the deal maker," he told The Village Voice.
"I don't need a living room. I don't intend spending that much time at home. My living room in Central Park.
"This is all I need for the time being."
Check out a tour of the apartment…
Photos: Street Easy
Want more? Here's a bit we love from Will & Woody – catch the boys weekdays from 4PM on KIIS101.1!