Photo: Glamour
Olivia Wilde has made headlines after posing for a couture photo shoot – all while breastfeeding her three-month-old son.
The 30-year-old actress is shown tenderly feeding Otis while wearing designer garb, in the September issue of Glamour magazine.
Talking about the shot, Olivia told the magazine it felt natural to be photographed while breastfeeding.
"Being shot with Otis is so perfect because any portrait of me right now isn't complete without my identity as a mother being a part of that," she said.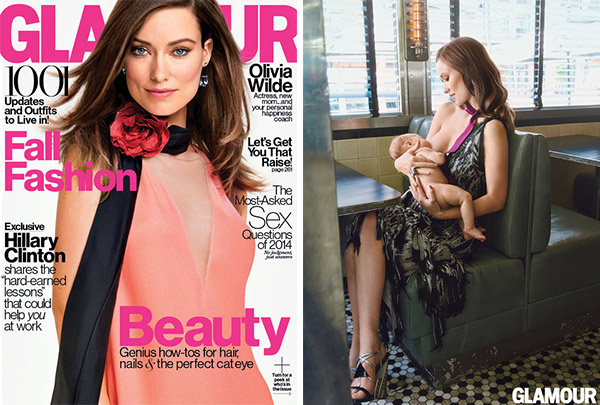 Photo: Glamour
"Breastfeeding is the most natural thing. I don't know, now it feels like Otis should always be on my breast.
"It felt like we were capturing that multifaceted woman we've been discussing – that we know we can be.
"You can be someone who is at once maternal and professional and sexy and self-possessed. [But] I mean, I certainly don't really look like that when I'm breastfeeding."
The star later took to Twitter to reveal not everything went smoothly during the shoot before thanking Glamour for the opportunity.
Otis ordered milkshakes. Luckily I had some on me. Then he peed on my dress. Good kid. #boobfood #whennaturecalls pic.twitter.com/YC9OcJuRod

— olivia wilde (@oliviawilde) August 5, 2014
Thanks @glamourmag for knowing there's nothing indecent about feeding a hungry baby. http://t.co/ZJEjGqBpyO

— olivia wilde (@oliviawilde) August 5, 2014
Want more? Here's one of our fave moments from Jase & Lauren – they're always up to something! Weekdays from 6AM on KIIS 101.1!