Do you love music? Do you have a dream of becoming a rockstar? Then you better pack up your things and move to Melbourne.
Why? Well it seems that APRA Amcos have done a little research to find the most popular postcodes of Australia's musicians and then ranked the top 10 'creative' suburbs accordingly.
So, according to the findings, the DJs of Sydney prefer to live in Bondi and Surry Hills, and the classical, blues, alternative rock and pop music enthusiasts of Australia love the Melbourne suburb of Brunswick.
Those who aspire to be a children's performer, such as High Five and Wiggles wannabes, choose to live in Preston in Melbourne, but we're not quite sure why.
Overwhelmingly, the northern suburbs of Melbourne, such as Northcote, Brunswick and Fitzroy North were the most popular postcodes with aspiring musos, however Melbourne's West Footscray is showing the biggest national growth of the top 50 postcodes, so things may change!
So how did the rest of Australia do? Eh, average in comparison, but according to APRA, Brisbane's West End jumped over 20 spots to sit in the top 20, while Brisbane's Fortitude Valley showed the most promising growth out of the top 50 suburbs.
There are also a few non-capital cities and regional areas that are showing promise in terms of musical talent over the last 12 months; including Brunswick Heads (NSW), Ipswich (QLD), Ballarat (VIC), and Penrith (NSW).
See the graph below and head to APRA to see the full results.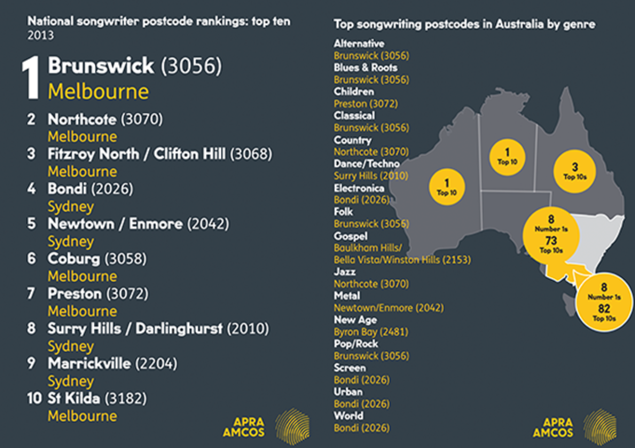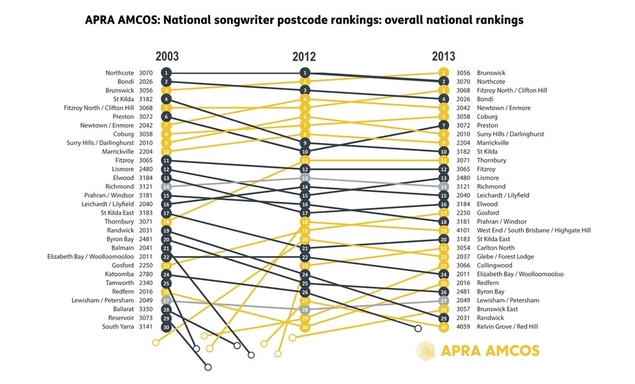 Want more? Here's one of our fave moments from Jase & Lauren – they're always up to something! Weekdays from 6AM on KIIS 101.1!