Two parents' joy watching their child in a Thanksgiving play quickly turned to outrage this week in West Virginia.
As the play came to a close, Amanda Riddle and Kent Squires' son Caleb approached the microphone as the Thanksgiving Turkey to say "gobble gobble", when the teacher snatched the microphone from the stand and walked away.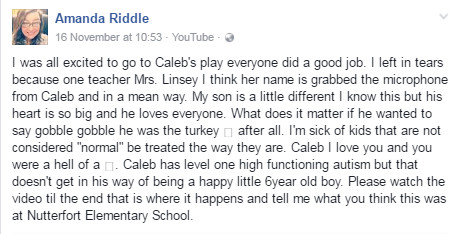 Video footage taken from the night has prompted an outcry after being shared on social media by the family.
In the video you can see the exact moment six-year-old Caleb's heart breaks as he screams "oh no" and bursts into tears.
Caleb has high functioning autism and the incident has had a lasting impact on him.
After making a formal complaint, Riddle was then outraged for a second time after it was announced that the teacher in question would not face any disciplinary action.
One positive to come from the entire ordeal is the public support that has rallied around Caleb and his parents, with hundreds of people commenting on social media that they support #teamgobblegobble.
A number of people have also shared their 'turkey art' and other creative images for Caleb to cheer him up.
Cleb himself has responded to his public support with his own message.
And a hearty "Gobble gobble"!
The superintendent of Harrison County Schools Dr Mark Manchin has responded after seeing footage of the incident and admits a mistake had been made.
"It's a mistake that was made. There was no malice," he told local news.
"This teacher, as all of our teachers, truly care about these young boys and girls. The program was over, at least as I understand, and the teacher had taken the microphone."
He also stated that the Board of Education was investigating the series of events and had been in contact with the school's principal, the teacher in question and the family involved.