The first commitment ceremony in a MAFS season is always intriguing for viewers, so we can't imagine how crazy it must be for the participants themselves. Who will leave? Who will stay? Will I be dumped? AHH!
One couple who were comfortable were Michael and Stacey, who cheekily created their own tally to predict who would stay in the experiment or write down the tragic five letter word.
We saw the front page of the tally flash up twice, although you would've had to be very quick to have seen what Stacey and Michael had actually written down. If you haven't seen it, and care enough to know, here are the images of the sheet.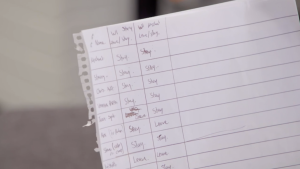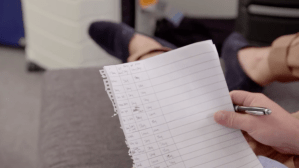 The pair made some interesting choices, predicting Mishel will want to leave Steve, as well as Ivan and Aleks being quite conflicted.
Seems like by the end of Sunday night we'll know for sure! Here's hoping everyone stays committed and sees another week of the experiment.
Want more? Here's one of our fave moments from Jase & Lauren – they're always up to something! Weekdays from 6AM on KIIS 101.1!