Elora Murger entered hot water in the comments of Sam Ball's Instagram on Saturday. The 2017 contestant from The Bachelor hopped in Sam's comments to defend him over his actions on the show, saying "I think you handled yourself beautifully with what you were given", but the internet was having none of it.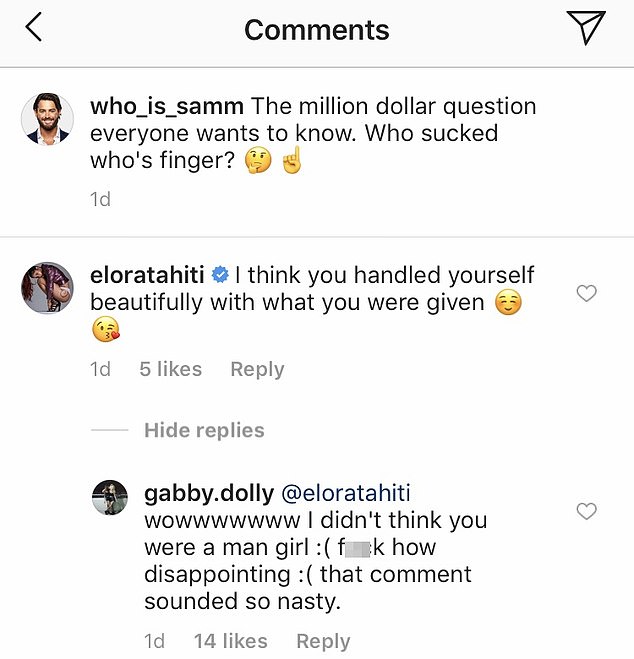 A lot of people in the comments seemed to jump to the conclusion that "what you were given" referred to Lizzie, Sam's wife, since she was featured in the photo Elora commented on. Especially considering Sam's affair with Innes, that, unsurprisingly, wasn't well received.
Elora quickly doubled back on the comment;
"I don't mean Lizzie, I mean production. I should have maybe said, 'what you were put through.'"
"Remember guys – they don't choose their partners. I think Lizzie is lovely, both of them were jumping through production hoops… Let me rephrase my thoughts. Experts don't match for love. They match for a show. Drama. Lizzie is lovely."
Regardless of what Elora meant, Sam Ball is definitely still not in the good books after everything he's done this season. From fat shaming his initial partner, Elizabeth, a jewellery store manager, to having an affair with Ines, he's definitely in contention for the crown of 'most hated man in Australia' according to many viewers.
Do you believe Elora's clarification or do you think she actually has one out for Lizzie? Is Sam Ball still the villain on this season or do you think he's been dethroned?
Want more? Here's one of our fave moments from Jase & Lauren – they're always up to something! Weekdays from 6AM on KIIS 101.1!