In case you didn't know, High School Musical had a reunion over the weekend for a Disney Family Singalong special to entertain us while everyone's stuck in self-isolation.
Now while we should be incredibly thankful for the absolute treasure that is the HSM cast singing 'We're All In This Together' via video call over ten years since the film was released, a lot of people were left kinda angry about it for one reason.
And that reason was Zac Efron. Zac Efron, AKA the one and only Troy Bolton, didn't participate in the singalong with other cast members like Ashley Tisdale, Corbin Bleu, Lucas Grabeel, Monique Coleman and of course his ex Vanessa Hudgens.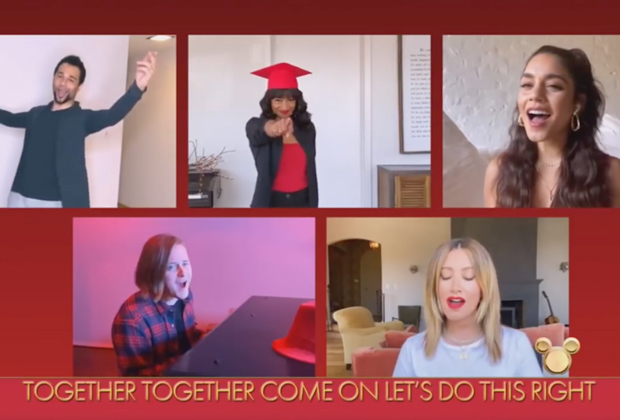 Instead, Zac chose to introduce the song in a short clip before the song started. It's pretty safe to say that fans were pissed about it…
y'all i'll never forgive zac efron for not singing in the hsm reunion 😤😤

— era (@sruthxaviera) April 19, 2020
I SCREAMEDDDDD zac efron why are you always not there whenever there's hsm reunion please dont ruin my childhood 😭 pic.twitter.com/NWjBHuk6LV

— rinrin ; 𝘴𝘦𝘭𝘧 𝘱𝘰𝘳𝘵𝘳𝘢𝘪𝘵 𝘣𝘺 𝘴𝘶𝘩𝘰 (@MYEONFlNlTY) April 19, 2020
I've been waiting for that HSM reunion my entire life, but where the fvck is Zac Efron?!!

— Vina Sto. Tomas (@vstotomas) April 18, 2020
A one direction reunion without zayn is like zac efron not joining the hsm cast in singing 🙃🤘

— 🌻 (@AlltheloveHxzza) April 18, 2020
I just wanna know why Zac Efron was too busy to partake in the HSM reunion?…Did he have anywhere to be? Something better to do? 🧐

— stav (@Stav_Yativ) April 18, 2020
And look we're not going to lie, we were pretty disappointed about it too. BUT before we take it too personally it turns out that Zac actually had a pretty reasonable excuse for not joining in on the singing part.
Monique Coleman, who played Taylor in HSM, told TMZ that Zac is actually off the grid at the moment and so this made it pretty difficult for him to participate in the singalong.
They had to spend time practicing before actually filming the performance, which all took place via video call and so they all needed a good wifi connection, which is something Zac didn't actually have available to him.
Monique added that you can see just how bad Zac's wifi was in his introduction video which was a bit fuzzy and bad quality.
Pop Crave also reported this same reason saying that Za didn't perform himself "due to being 'hunkered down in the middle of nowhere with patchy WiFi'".
.@ZacEfron appeared on #DisneyFamilySingalong to introduce the star-studded rendition of "We're All in This Together," not performing himself due to being "Hunkered down in the middle of nowhere with patchy WiFi." pic.twitter.com/u8z55dEB1y

— Pop Crave (@PopCraveMusic) April 17, 2020
So we can't really blame Zac. Really we should just be thankful that he was able to participate at all!
And of course, we've always got Zac's epic performance of 'Bet On It' to watch over and over again on the HSM 2 DVD so we can live with missing out on his reunion participation we guess!
Want more? Here's a bit we love from Will & Woody – catch the boys weekdays from 4PM on KIIS101.1!