While Cathy and Josh seemed like the only couple that could really find love on this season of Married At First Sight, they're now starting to look like one of the more doomed couples and for a number of reasons.
https://www.instagram.com/p/B8vkOD2g16n/
Not only has Josh basically come out confirming that he and Cathy are no longer together in an explosive Instagram video, but it's looking more and more like Cathy didn't actually go on the show with the intention of finding love.
It's been rumoured in the past that Cathy is actually an actress and now it's being rumoured that she was hired to be part of this season's cast.
According to Instagram page, GetReal Entertainment, Cathy is actually best friends with the casting producer of Married At First Sight.
The page appeared to expose the long-term friendship by posting pictures of the two of them dating back to 2016.
"EXCLUSIVE LETS GETREAL. Meet MAFS casting producer Megan Longhurst aka @herstusic aka Cathy's buff," they wrote in the caption.
"Who threw under the bus @summertanx? @herstmusic PLEASE EXPLAIN!"
MAFS fans have quickly gone nuts in the comments section.
"Josh Mum wasn't lying when she said Cathy was a hired actress by a mass producer," wrote one person in the comments.
"All things come to light! Love ya josh," another comment said.
What's also interesting is that Josh, Cathy's onscreen husband then replied to this comment saying, "yew! Love ya".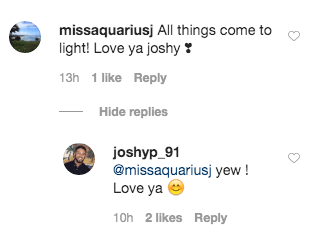 Maybe Josh found out about all of this and this is why things went sour between the pair?
Who knows. All we know is that it's an interesting coincidence… Veeerrrry interesting
Married At First Sight continues tonight at 7:30pm on Channel 9!
Want more? Here's one of our fave moments from Jase & Lauren – they're always up to something! Weekdays from 6AM on KIIS 101.1!