Website domain host GoDaddy has decided to pull it's Super Bowl Ad this year after complaints saying it promoted animal abused poured in!
The commercial is a parody of the popular 2014 Budweiser Super Bowl commercial "Puppy Love".
What has infuriated people however is the ending.
Watch it here.
This is Budweiser's original commercial it was meant to parody.
People's response has been that of outrage to the GoDaddy commerical .
#GoDaddyPuppy Monsters who operate puppy mills should spend life in prison! Innocent pet children deserve much better! #AnimalRights 🐶

— Hadrian Bradley (@HadrianBradley) January 28, 2015
Not sure how @GoDaddy thought its #GoDaddyPuppy ad was a good idea. Happy to hear it got pulled.

— Kate Caffrey (@KateCaffrey_) January 28, 2015
Thanks Go Daddy for making me never want to use your site after seeing your commercial. #Horrible #GoDaddyPuppy https://t.co/SuZmVhbLCQ

— Jenn Ryan (@RadioJennRyan) January 28, 2015
Since all the feedback GoDaddy has decided to pull the ad.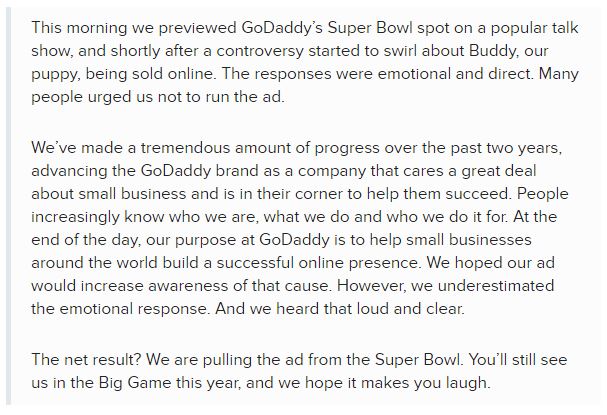 What do you think, did they cross a line?
Want more? Here's one of our fave moments from Jase & Lauren – they're always up to something! Weekdays from 6AM on KIIS 101.1!