Two office workers have been caught having sex in their office by onlooking pub patrons.
The busy Carlton Bar across the road from Marsh Ltd Office in Christchurch had front-row seats to a very steamy affair.
It is believed that the pair thought the tinted windows in the office world stop anyone from looking in.
Congrats to the gentleman who made a deposit at Rabobank this evening pic.twitter.com/sonTXZQQfO

— Nick (@NickatFP) February 1, 2015
One spectator Alex Wilton has said, "Opposite the Carlton bar where the whole pub knew about it and was watching, while they were totally oblivious to it."
"The band that was playing at the time stopped because everyone else was more interested in watching them … We all had a good laugh. It was the highlight of the night."
The spectators in the pub took photos and videos of the event which have now gone viral on social media.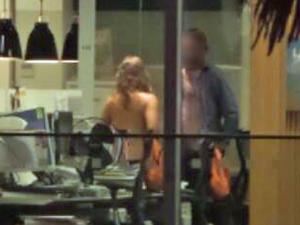 Company chief, Grant Milne has made a statement saying "Marsh is very disappointed by the conduct of two colleagues at our Christchurch premises".
"The inappropriate actions of those two individuals are not representative of the many professional colleagues we have at Marsh."
The fate of the two workers is not yet known.
Source: Facebook Alex Wilton
Want more? Here's one of our fave moments from Jase & Lauren – they're always up to something! Weekdays from 6AM on KIIS 101.1!