Remember when Arnott's changed the recipe of the long-time fav aussie snack – Pizza Shapes? Nearly the whole nation lost it!
Hundreds of aussies purchased in bulk what was left of the product BEFORE Arnott's decided to bring back the original recipe.
I've never been so happy to see you again. Welcome back original pizza shapes 😭 pic.twitter.com/HwliDndeVw

— squashie (@pubsquash) October 24, 2016
In a presumably panicked state, a bloke from Melbourne nabbed over 60 packets during the 'pizza shapes crisis' of 2016.
Now he's taken to social media in a desperate plea to try and get rid of them.
Buyers remorse much?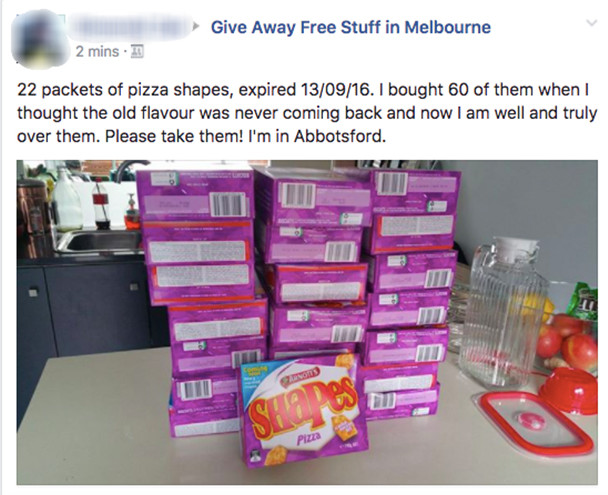 Posting on the Facebook group 'Give Away Free Stuff In Melbourne', the man wrote "2 packets of pizza shapes, expired 13/09/16. I bought 60 of them when I thought the old flavour was never coming back and now I am well and truly over them"
Commenters are having a bloody good laugh about it, hailing his somewhat panicked dedication to the cause.
"This person is a genius" wrote on commenter.
Anyone keen for 22 boxes of expired pizza shapes? You know where to find them…
Source: Daily Mail