A new TV show in the UK is lifting the lid on a new breed of grannies: Super-Cougars.
Nanna Love: 50 Shades of Granny shares the stories of a number of grannies who enjoy erotic dancing and making pornography.
One subject of the show, 80-year-old Shirley Andrews, started her career in amateur pornography in 2008.
Meet the super-cougars: Grannies who enjoy knitting, crochet, making porn and erotic dancing http://t.co/DUD3RTgRao pic.twitter.com/oMXnKq1NAv

— Metro (@MetroUK) March 29, 2015
"I made all of the videos at home. And I started posting them online and I just got rave reviews… I just felt like a princess," Shirley explained.
Shirley's #1 fan is Kyle Jones, and while they'll often be seen 'canoodling' in public, Kyle isn't limiting himself to one Super-Cougar.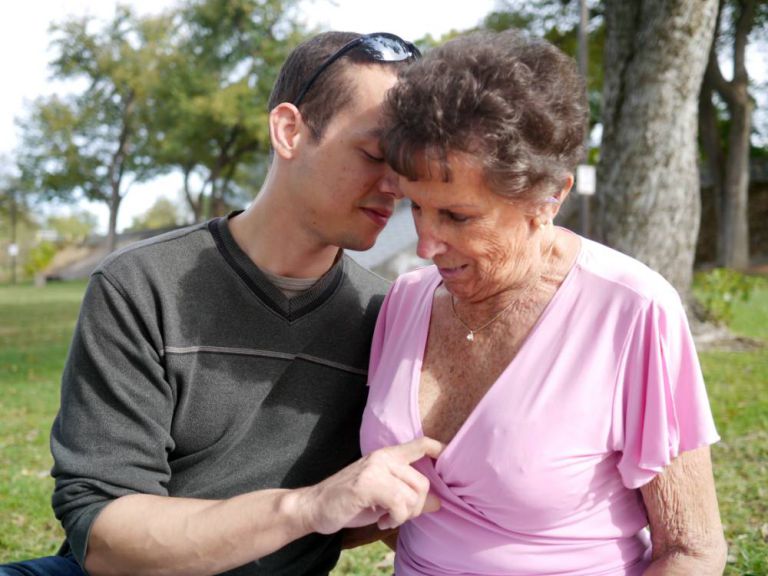 Photo: Metro
"Shirley knows that I would have problem being with just one woman and I know that Shirley will have a problem with just one guy.. Let's say at some point where I decide I'm just really super in love and I only want her, then it might mess with my head at some point that she was with someone else."
Despite this, Shirley isn't ready to settle down yet.
"I have had numerous proposals in the last five years. But none of them were with anyone I would want to spend the rest of my life with."
Source: Metro UK
Want more? Here's one of our fave moments from Jase & Lauren – they're always up to something! Weekdays from 6AM on KIIS 101.1!