It's all happening in the world of Married At First Sight today! Not only did we hear rumours that our former virgin groom is having a baby with his wife Lauren, but now we've received confirmation about a wife swap!
It's been teased in the trailer for the next episode of the reality dating show, but we now have proof that Sam Ball and Ines Basic ditch their original partners and get together on the show.
In a tell all interview with NW Magazine, two of the most controversial contestants from this season so far have confirmed that they're in a relationship and are head over heels for one another, despite originally being paired with other people.
"You can't really build anything if there's no physical attraction or mental stimulation," the legal assistant said of her relationship with her original husband, Bronson.
"What's the point of staying with someone when deep down you know it's not going to work out?"
Sam said he felt the same way in terms of his relationship with Elizabeth, saying he didn't feel any sort of connection.
"There was no way you would want to continue this when we both obviously don't like each other," he told the publication.
"Liz is obviously a lovely girl and she can talk, and there are some traits there that I do like. But unfortunately, the majority of her traits I don't like."
In a photoshoot with the publication, Ines and Sam are seen looking incredibly loved up with one another as they announced that they are now a couple.
After the image was posted to NW's Instagram page, Ines commented on the photo gushing, "These photos came out so cute."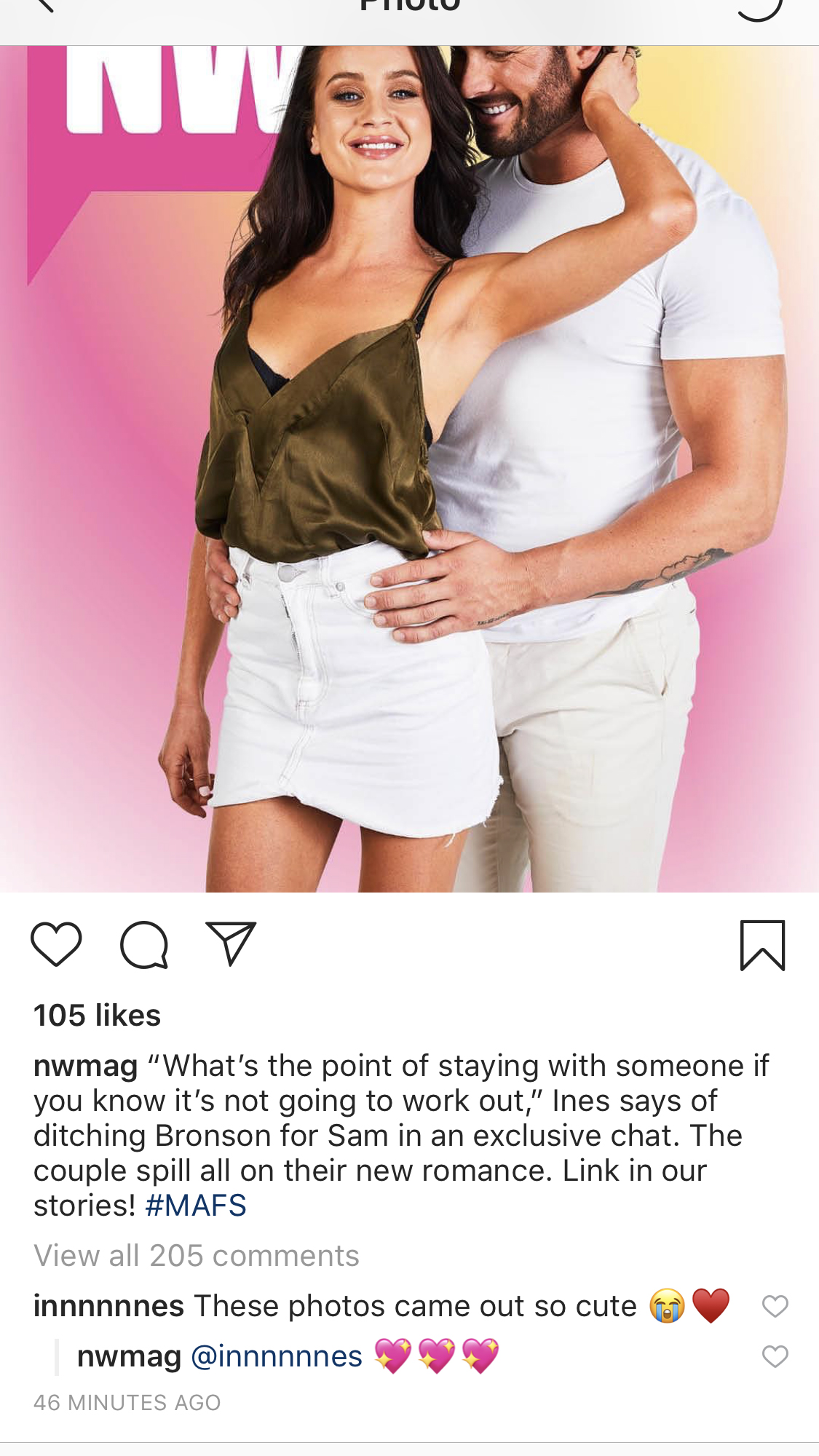 Ines also told the publication that she was immediately attracted to Sam and felt instant chemistry between them.
"He's so hot," she said. "You definitely need that chemistry to make anything happen. Their relationship was failing and so was mine… You do enter the experiment to find love, so that's sort of the main purpose and vision behind it."
According to Sam, their relationship began after Ines sent him a message on Instagram. He said that it was a "sticky situation" but at the end of the day curiosity got the better of him.
"I wasn't expecting it at all. I was lucky I had seen it, because it came through in the message requests inbox. I was like, 'Here we go, what's the deal here?' And obviously the curiosity level was heightened because I didn't know her at the time," he told NW.
"Physically, Ines is more my type, but there were so many unknowns about her and I had to find out."
This is something that viewers will see unfold on this week's episodes of Married At First Sight.
Ines concluded by saying that she didn't feel bad about making the move on Sam because the whole idea of the show was to "experiment".
"You don't want to harm another individual or cause any complications in other people's marriages but if their marriage is failing and yours is too…" she trails off.
"Well, it is an experiment – and we are here to experiment."
Married At First Sight Australia continues tonight at 7:30pm on Channel Nine.
Want more? Here's one of our fave moments from Jase & Lauren – they're always up to something! Weekdays from 6AM on KIIS 101.1!