It's only been a couple of days since ticket-holders of 'Married… Still Looking For Love' received an email announcing its cancellation, and now it appears we have a reason why it was cancelled.
Channel Nine has released a statement regarding the tour:
"The event was unauthorised and at no point did the organisers consult Nine nor seek Nine's permission as would have been required to stage such an event. Nine did not cancel the event, but Nine will take action as necessary to protect the Married At First Sight brand and its rights."
The tour was announced over a week ago, and was promoted as being a 'MAFS tell-all' experience, featuring the likes of Cyrell Paule, Mick Gould, Melissa Lucarelli and Ning Surasiang from the last season and 'Bad Boy' Dean Wells from the season before.
Only two days ago, ticket-holders received an email informing them of the show's cancellation.
"DRW, the promoter of MARRIED…LOOKING FOR LOVE? has regretfully advised that this event been cancelled due to unforeseen circumstances," the email read.
"Customers who purchased online or via phone will be automatically refunded back to the credit card used for the purchase (including ticket insurance, if relevant)."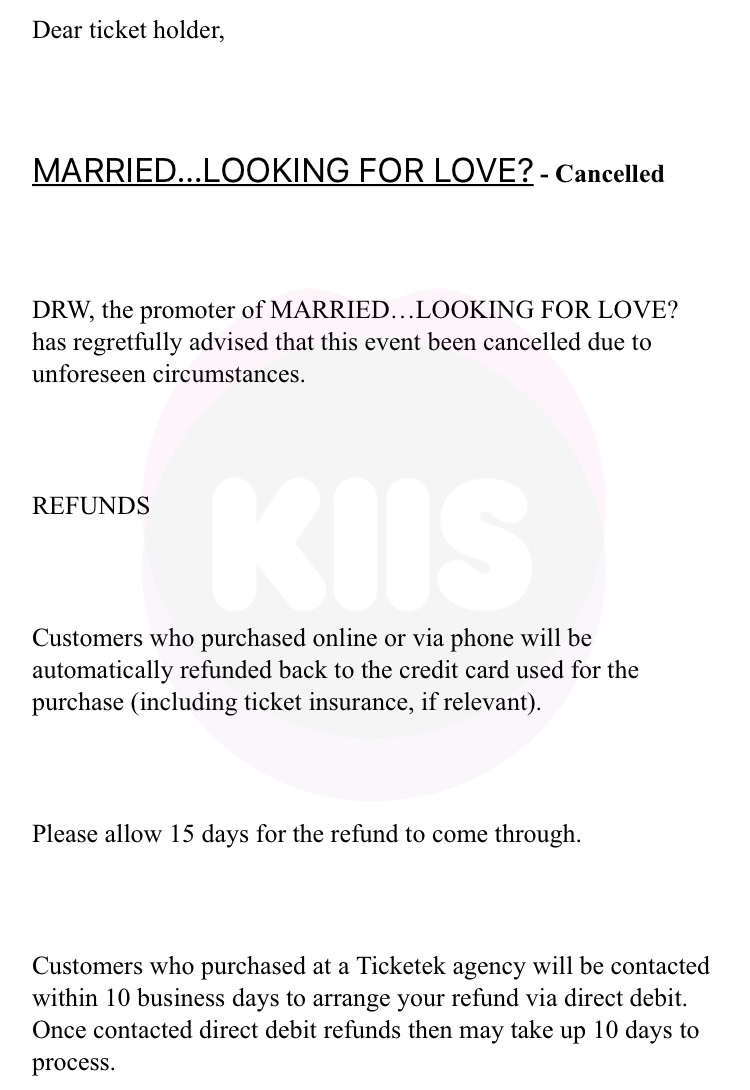 Dean Wells also took to Instagram to say it was cancelled due to "unforeseen circumstances".
All ticket-holders can expect a refund within 15 days.
Want more? Here's a bit we love from Will & Woody – catch the boys weekdays from 4PM on KIIS101.1!