Despite little success in the partnering of couples on Married At First Sight, John Aiken will be hosting his own "rescue your relationship" retreats for couples on the rocks in the real world.
However, with a hefty price tag of $15,000 for a three day program, couples may struggle to sign up.
"This is an exclusive retreat for one couple only, that need immediate intensive one-on-one training with John," his official website reads.
The program promises to provide "hands on practical techniques and tools to empower the couple to transform their relationship".
The couple will have the opportunity to work exclusively with John over three days to understand what's going wrong and how to put it right.
According to his website, John takes the pair through a variety of specifically tailored science based relationship exercises and activities. Problem patterns will be exposed and new habits will be formed, to give the couple the ability to re-energise their relationship.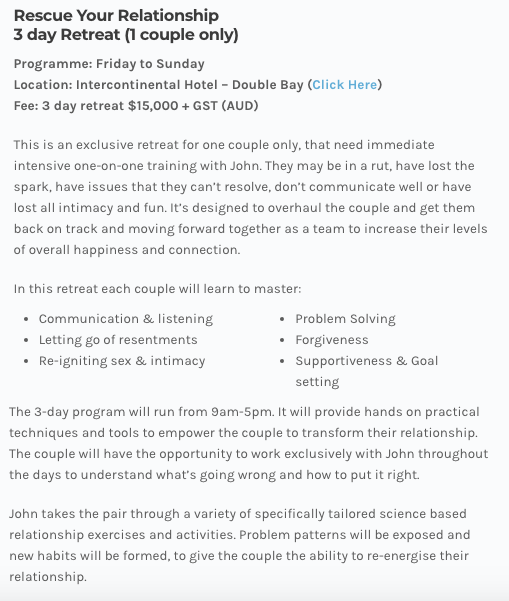 Despite having more than 20 years of experience as a relationship expert, John's lack of success with couples from the reality show may be hindering his career.
In recent weeks, the TV personality has received several one-star Google reviews, and deactivated his Facebook page – "John Aiken Live".
"Might as well go to a fortune teller. Having now found a real therapist, I realise John doesn't use real science or evidence-based practice, just buzzwords. He's a celebrity, not a therapist. At least me and my wife have bonded over the experience, and things are going great!" one man wrote.
Married At First Sight continues tonight at 7:30pm on Channel Nine.
Want more? Here's a bit we love from Will & Woody – catch the boys weekdays from 4PM on KIIS101.1!