It's the name that everyone knows, and the Insta account that EVERYONE follows, but Ines Basic's latest upload has caused quite the stir.
Over the weekend, the Married At First Sight star did what most people do in the sunless Aussie winter – throw on a bit of fake tan!
She stripped down to her undies and started to apply her Bondi Sands Fake Tan, but the unusual part was where she was doing it.
In the photo there's her tanning lotions at the front (normal), but then there's also a toaster to the right (hmm, is she in the kitchen?), plus there's cutting boards and knives in the background (yup, she's definitely in the kitchen!).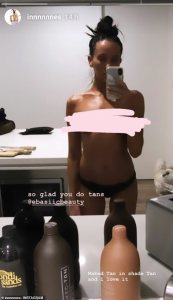 The 29 year old posed topless in the image, with just a scribble covering herself, and after releasing the image took a dip in followers. But that soon steadied out, and the former reality TV star is back to over 161,000 followers on the social media network.
https://www.instagram.com/p/Bz44_P3g7Jq/