Last night's episode was fine. Nothing huge happened and they knew it.
Which is why Channel 9 left an absolutely explosive preview to the next episode.
Seb is seen telling the camera that "there might be something on the cars" at the end of the episode right before the preview.
Which shows Lizzie going up to fellow intruder KC at the dinner party and whispering "I had sex!!", which is like adorable.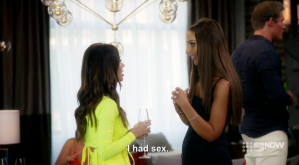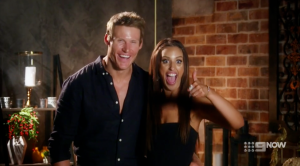 I really really really want Lizzie and Seb to work, but the realist in me knows I'll be disappointed hey.
But let's get down to the REAL tea. Aleks, Aleks, Aleks Markovic.
She dropped the bomb yesterday that her feelings for Ivan might only be friendship and WHY ALEKS.
I KNOW IT'S NOT YOUR FAULT AND YOU CAN'T FORCE LOVE BUT WHYYYYY.
She decided to bring it up at the dinner party, which again, so silly.
And you'll never guess who got involved – Fu***** Michael fu****** Goonan.
"I've never heard so much crap in my life!" he said.
Oh really Michael?? Have you heard YOURSELF SPEAK?
"I feel very attacked by you now!" Aleks replies
And Michael ruthlessly says "You told me you slept with him!"
We have ABSOLUTELY NO idea who they're talking about, but Aleks refuses to play along.
Is it Ivan? Is it someone else?
Also AS IF ALEKS would talk to Michael about anything.
Why would anyone trust that man with anything?
"So, now you're lying to two people?" Michael continues to stir the pot.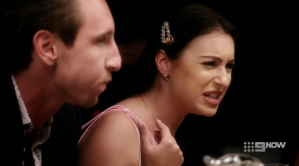 Absolute BYE, cannot wait for this episode.
Want more? Here's one of our fave moments from Jase & Lauren – they're always up to something! Weekdays from 6AM on KIIS 101.1!