Lara Bingle's not happy with talk about her choice in name for newborn son Rocket Zot Worthington.
The new mamma has taken to Facebook to slam an article in The Daily Telegraph in which the unusual middle name was quickly ridiculed.
Named in tribute to her late father, whose nickname was 'Zot', the article wrote of the choice:
"It's up there with Jermajesty Jackson, Audio Clayton and Tu Morrow in a category of cruel and unusual punishments."
The Aussie model didn't hold back when responding to the article on Facebook.
"My sons [sic] middle name IS a respectful nod to my late father, whose nickname was affectionately, Zot," she wrote.
"I wish Australian journalism, and in particular The Daily Telegraph, would rethink employing people who have some respect, and integrity, who either fact check or not comment – rather than just print the juvenile, spurious ramblings of some pseudo journalist called Annette Sharp."
Lara Bingle: 1. Haters: 0.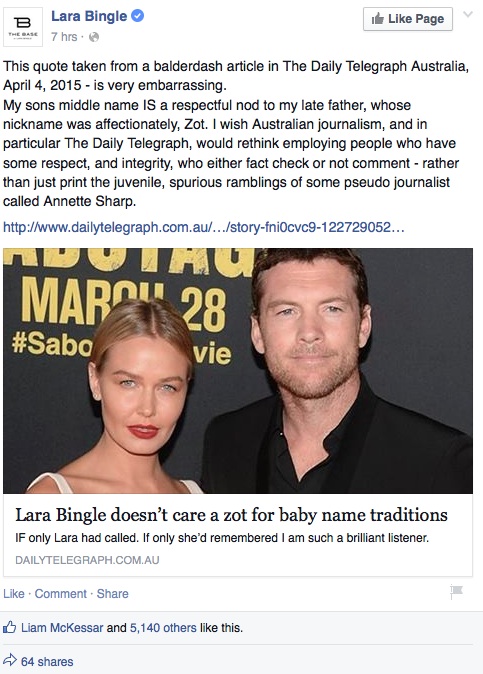 Want more? Here's one of our fave moments from Jase & Lauren – they're always up to something! Weekdays from 6AM on KIIS 101.1!