Kylie Jenner spent her whole Sunday at the hospital to have her daughter, Stormi, treated for a health issue.
The reality star experienced one of the harder moments of motherhood when her baby girl fell sick with an allergic reaction that called for a doctor's visit yesterday. Jenner informed fans of Stormi's sickness via an Instagram Story showing the infant resting well and warm with a baby blanket and pacifier in her mouth.
"Spent the day in the hospital with my baby," she wrote with the picture. "She had an allergic reaction but is 100% okay now and we are home."
"Nothing else matters when these things happen. God bless all the moms with sick babies," Jenner added empathetically. "I'm sending so much love and positive energy your way."
Seemingly absent for his daughter's hospital stay was Stormi's father, rapper Travis Scott.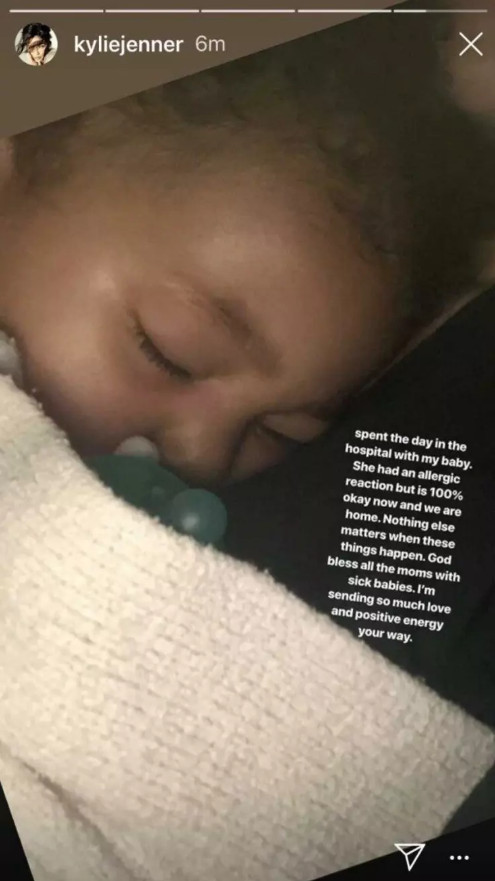 This isn't the first time one of the Kardashian-Jenner's children had to be hospitalized due to allergies either. In April, Kris Jenner revealed Kim Kardashian's son, Saint, was rushed to the hospital over a suspected allergic reaction as well.
"My little grandson, we discovered he might be allergic to grass," the 63-year-old momager told Refinery 29 of the frightening experience. "We ended up in the E.R." she added, though assuring, "All is well — we figured it out."
Prior to Saint's scare, Kris also added that Kourtney Kardashian's 9-year-old son Mason's "face started blowing up and his throat started closing" due to an unsuspecting peanut butter allergy. "He's fine now," she said. "The scariest is always the first time."
Article: Paris Close
Want more? Here's a bit we love from Will & Woody – catch the boys weekdays from 4PM on KIIS101.1!