The Jonas Brothers are OFFICIALLY BACK. Nick, Joe, and Kevin Jonas celebrated their live return in a huge way: by performing at 2019 iHeartRadio Wango Tango presented by JUVÉDERM Collection of Dermal Fillers. The band had previously performed at the mega-concert 11 years ago in 2008 (welcome back, guys!).
Wearing coordinating black and white outfits, the guys gave fans a set full of fan favorites from their previous albums (I'm looking at you "Burnin' Up" and "Year 3000"), as well as some of their new music from their upcoming album Happiness Begins.
Before their set kicked off, introducing the band on stage was Jo Bro super fan John Stamos, or "Uncle Jonas" as he referred to himself. Stamos appeared on stage rocking a Jonas Brothers t-shirt, as well as a sleeve of tattoos featuring each of the brothers' faces.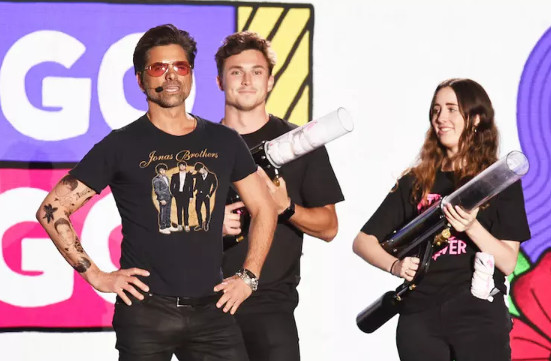 Then, the band began their performance with "Burnin' Up," followed by "That's Just The Way We Roll," their new song "Cool," "Lovebug," and "Year 3000." To close out their iHeartRadio Wango Tango set, the Jonas Brothers performed their hit single "Sucker."
Naturally, the Jonas Brothers fandom had ALL the feelings (same, TBH). See some of the best reactions below.
LADIES AND GENTLEMEN!!! IN THIS THE YEAR OF OUR LORD 2019 THE @jonasbrothers ARE PERFORMING AT #Wangotango AND WE ARE ALL LIVING OUR BEST LIVES https://t.co/Mpfoo2qyhX

— Mary-Helen Norris (@girlinpink44) 2 June 2019
THEY SANG THEIR THROWBACK SONGS AHHHH, MY 8 YEAR OLD SELF IS SCREAMING #WangoTango

— tiegan // inactive binch (@TWICEFTPIXIE) 2 June 2019
it's 2019 and i'm crying over a @jonasbrothers livestream at midnight. some things just never change 🤷🏻‍♀️ #WangoTango

— Sara Weathers (@sara_jean16) 2 June 2019
my 10 years old me is shaking rn #WangoTango #JonasBrothers pic.twitter.com/XJOPGPgseI

— 🌴Rickie Blu🌴 (@BLUWAMAZING) 2 June 2019
Jonas Brothers have a big week ahead of them. The band's comeback album Happiness Begins drops on Friday June 7th, and just a few days before, on June 4th, their documentary Chasing Happiness premieres on Amazon Prime Video, which will give fans a look into their lives.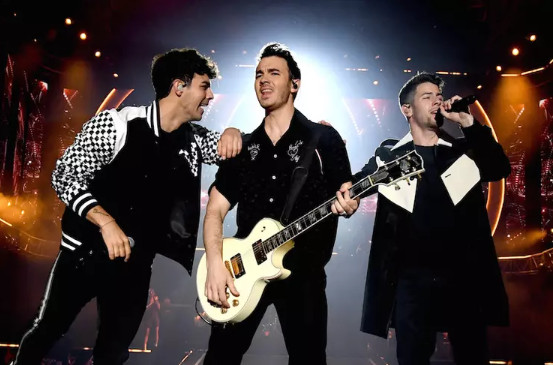 Photos: Getty Images & Wes and Alex for iHeartRadio
Listen to the Jonas Brothers' Artist Radio on iHeartRadio now!
Article: Nicole Mastrogiannis
Want more? Here's one of our fave moments from Jase & Lauren – they're always up to something! Weekdays from 6AM on KIIS 101.1!