Do you think this girl's dress is too sexual?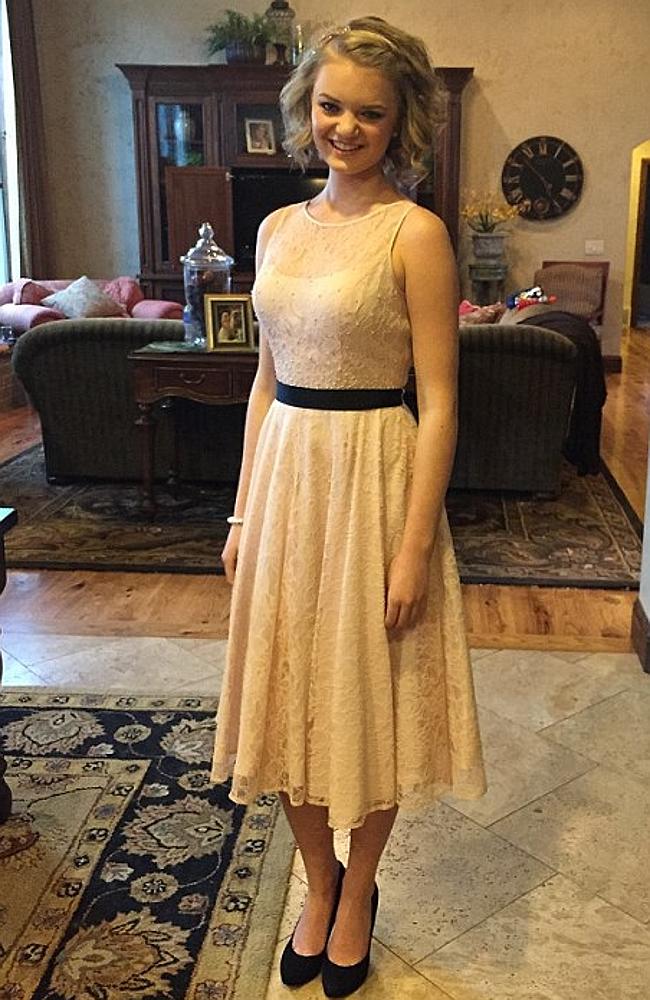 15-year-old Gabi Finlayson was told her dress was too sexual at her school formal and was forced to cover up her shoulders. A Utah High School teacher told Gabi to wear a coat over her lace gown which was purchased in Paris and inspired by Audrey Hepburn, for breaking the school's strict dress code.
Gabi said she felt "embarrassed and insulted, but didn't want to make a big scene" so said "yes" to covering up.
"Somehow my shoulders are sexualised. Like it's my responsibility to make sure the boys' thoughts are not unclean."
The school's dress code states:
"Formals, backless dresses and/or tops may not extend beyond the bottom of the shoulder blades."
"Girls' dresses and tops must have a 2" minimum strap on each shoulder. Shawls, boleros and other shrugs are acceptable if worn over the dress at all times. Cleavage covered."
Gabi's mother has commented on the topic, posting on her Facebook page:
"I am very disheartened to learn she (Gabi) was shamed at the entrance of the dance and told she couldn't enter without a sweater or coat to cover her shoulders. Seriously?! She is wearing a perfectly appropriate and classic dress we bought in Paris and somehow because her shoulders were not covered she was body shamed and embarrassed? Makes me wonder if this really isn't about wanting girls to dress in LDS garment-worthy clothing. Let's stop this insanity. Girls bodies are not sexual objects and religious perspectives should not be imposed at a public school. Shoulders are not sexual!!!"
A few people have taken to twitter to comment on the teacher's decision.
This young woman is smarter than most adults in this regard. It's attitudes like the adult that make it difficult… http://t.co/apjkOZPR6X

— Libertarian Liz (@Libertarian_Liz) January 28, 2015
Lone Peak High Sc hool has lost it's mind if they think something is wrong with this dress. She looks beautiful… http://t.co/YetQpHJKP0

— Candace E. Salima (@CandaceSalima) January 28, 2015
What do you think, should Gabi have been told to cover up?
Want more? Here's one of our fave moments from Jase & Lauren – they're always up to something! Weekdays from 6AM on KIIS 101.1!