A sex shop in Spain caused outrage after displaying in their store window the Virgin Mary, Joseph and the baby Jesus painted on ceramic dildos.
Héctor Valdivielso, the owner of Non Sit Peccatum sex shop in Toldedo, commissioned an artist to paint the religious icons on the sex toys.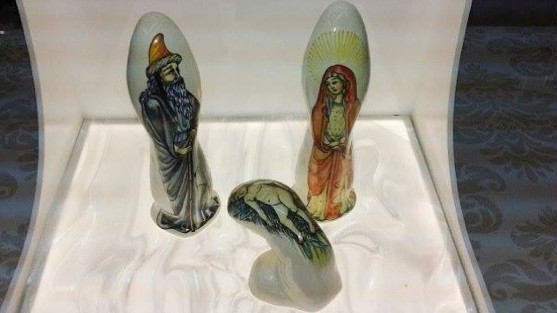 (Image: Facebook Non Sit Peccatum)
Well, we guess that's one way to get into the Christmas spirit!
As you can imagine, the local Catholic community was wildly offended by the scene.
Valdivelso has since received threats by those claiming to be offended. 'A man with his wife ordered me to remove the offending scene and said that if I didn't, he would remove it himself,' he wrote on Facebook.
Valdeivelso said his shop sign has since been vandalised with the word 'sinners'. A protest was also held outside his shop, where people yelled abuse at customers.
Valdivelso eventually gave in and removed the window display. Replacing it with a tongue-in-cheek poster asking people to vote whether the Christmas dildo scene should make a return.
78.5% of people voted for the display to be reinstated and Valdivielso plans to put the raunchy display back in the store's window front.
Do you find this nativity scene offensive? Tell us in the comments section below…
Source: Metro
TRENDING NOW: Mum Forced To Move From First Class On Train Because Her Baby Was Screaming
Want more? Here's a bit we love from Will & Woody – catch the boys weekdays from 4PM on KIIS101.1!