The red carpet was ALL about Billy Porter's tuxedo dress – but Oscars focus has turned to Lady Gaga, Bradley Cooper and his girlfriend, Irina Shayk.
The rumour mill has been going bananas that things are more than platonic between Cooper and Gaga, who play Jackson and Ally in A Star is Born, particularly since the songstress called it quits with her agent/now-ex-fiancé Christian Carino just days earlier.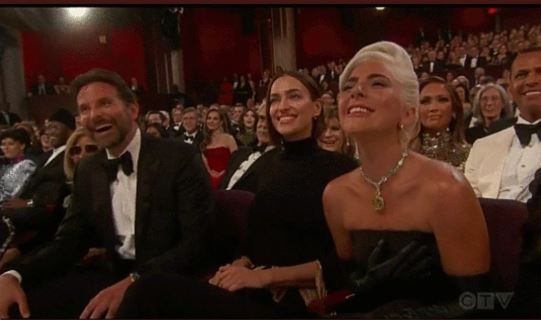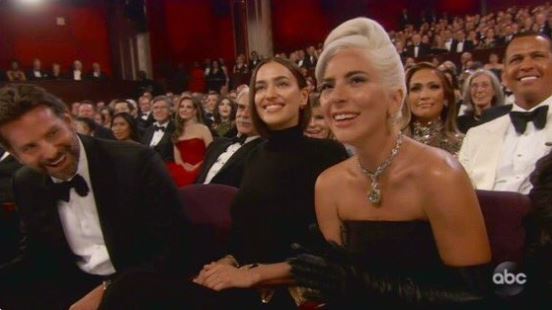 Shayk is basically being called a third wheel.
Um, why aren't Bradley Cooper and Lady Gaga sitting next to each other? Give the people what they want!!! #oscars

— Shannon Gray (@wakeupdenverSG) February 25, 2019
Bradley Cooper, Irina Shayk & Lady Gaga all sitting together #Oscar2019 pic.twitter.com/pce7bFZG4q

— Valentina (@Glamorousval) February 25, 2019
irina shayk sitting between lady gaga and bradley cooper and girrrrrrrrl, i would be too. #Oscars

— crystal (@crystalhoff) February 25, 2019
Irina Shayk to Lady Gaga now that she isn't engaged anymore and everyone wants Bradley Cooper to be with Lady Gaga instead: pic.twitter.com/jnUlwgFIq7

— Aubs (@aubrey_langer) February 22, 2019
I know Irina Shayk made sure to put herself BETWEEN Bradley Cooper and Lady Gaga and I'm crying 😂😂😂 #Oscars #Oscars2019 pic.twitter.com/S4qUoEEbH8

— Nia ❤️ (@niasimone_duh) February 25, 2019
Irina Shayk sitting between @ladygaga and Bradley Cooper at the #Oscars like…. #AStarIsBorn pic.twitter.com/nN3iIxp8tV

— Morgan Wolfe (@Morgan_Wolfe_) February 25, 2019
Irina Shayk sitting between Bradley Cooper and Lady Gaga: pic.twitter.com/pGTe5428UF

— Ashley Ortiz (@Celtwarrior715) February 25, 2019
break up with your girlfriend, lady gaga is bored pic.twitter.com/UE2ZJ1WUGX

— ‏ً (@katewcIsh) February 25, 2019
Irina Shayk should get an Oscar for acting like she's okay with this cringeworthy adoration between Lady Gaga and Bradley Cooper. #oscars

— DANI HALL (@biggiehallsx) February 25, 2019
Is Irina going to sit between Bradley Cooper and Lady Gaga during Shallow too? #Oscars

— Rachel (@RachLB22) February 25, 2019
Well…it's gonna be awkward when Bradley Cooper and Lady Gaga sing their duet later on with Irina watching on #Oscars

— Christine (@_ChrissyM870) February 25, 2019
So is everyone noticing how Bradley Cooper & Lady Gaga keep leaning over Irina to talk to each other As Irina has go sit back??

— Julia_Inspires (@Julia_Inspires) February 25, 2019