If you're anything like us, you might have found yourself yelling at the screen in shock while watching the recent episodes of Bachelor In Paradise due to one contestant's behaviour.
And no we're not talking about Richie… (Although seriously dude, you're on our list)
The man in question is BIP's resident dancer and the winner of this seasons title of stage 5 clinger, Ivan Krslovic.
Ivan, who previously appeared on Ali's season of The Bachelorette, has shown viewers a new side to him after he showed extremely possessive behaviour towards his love interest on the show, Tenille Favios.
Of course, while we must take everything that happens on screen with a grain of salt as we know some serious editing goes on behind the scenes, viewers have been left absolutely gobsmacked at the way Ivan lashed out at anyone who tried to go near Tenille.
Ivan also told Tenille that she wasn't allowed to hang out with certain people on the show because it made him uncomfortable.
And so it's not really shocking that viewers have expressed their disgust at this type of behaviour, leaving some pretty nasty comments on his Instagram photos.
As a result, Ivan has taken to his Instagram stories to apologise for the way that he acted.
"I would like to wholeheartedly apologise for my behaviour in Paradise," he wrote.
"It is not a part of me that I knew was there and I'm ashamed and embarrassed watching the show back not just as a man but as a human."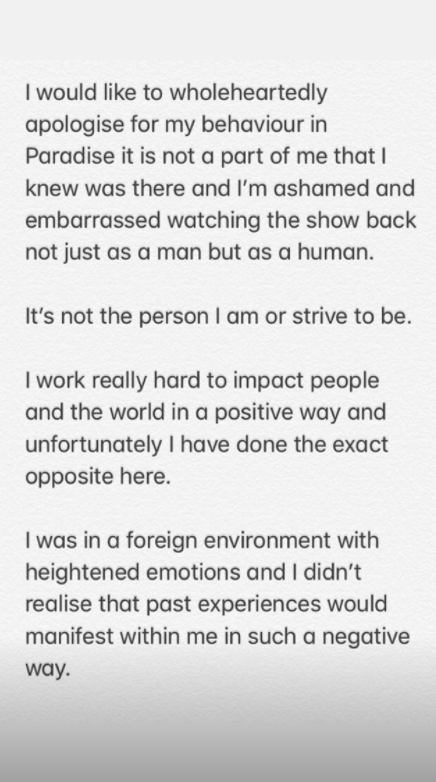 He continued to say that the way he came across on-screen isn't the person he strives to be.
"I work really hard to impact people and the world in a positive way and unfortunately I have done the exact opposite here," he continued.
"I was in a foreign environment with heightened emotions and I didn't realise that past experiences would manifest within me in such a negative way."
He then acknowledged that the way he acted was completely wrong and he has learnt from this experience and will continue to grow.
Ivan also apologised to Tenille and Brittany, another love interest from the show who was left upset by his behaviour on the show.
"I am sorry to Tenille, as well as Britt and thank them for their friendship along with the other women in paradise," he concluded.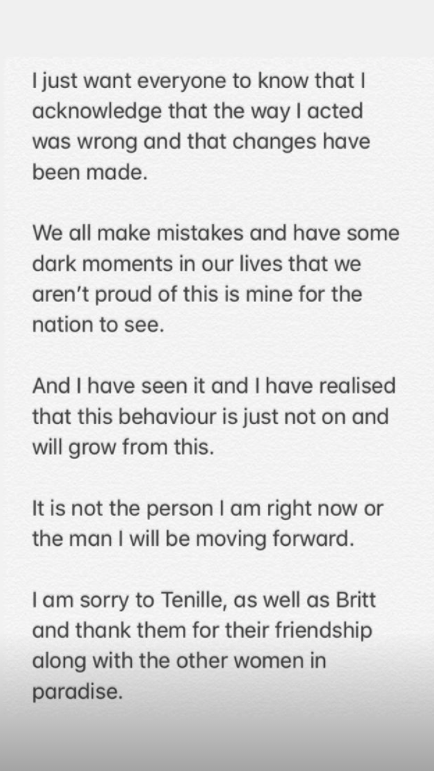 On last night's episode, Ivan was seen to reach boiling point after finding out that co-star Nathan had told Tenille that he was interest in exploring his connection with her.
"Mate, what the f**k," Ivan said angrily during a confrontation with Nathan.
"I can't believe, the fact that you would have that chat and say you wanted to explore after seven days of what has been going on between me and her. That's f**king balls man."
Nathan admitted during the conversation that he hadn't told Ivan about his feelings because he was scared of him.
A producer eventually had to step in and end the conversation, telling Ivan that Nathan could talk to anyone he wanted because it was a dating show.