Ajay Rochester has hit back at online trolls who slammed her for posting a racy photo taken by her 15-year-old son, Kai.
In the sexy Insta-pic, the former Biggest Loser host is lying down on a leopard skin couch wearing just a white lace corset and sheer white, knee-high stockings with suspenders.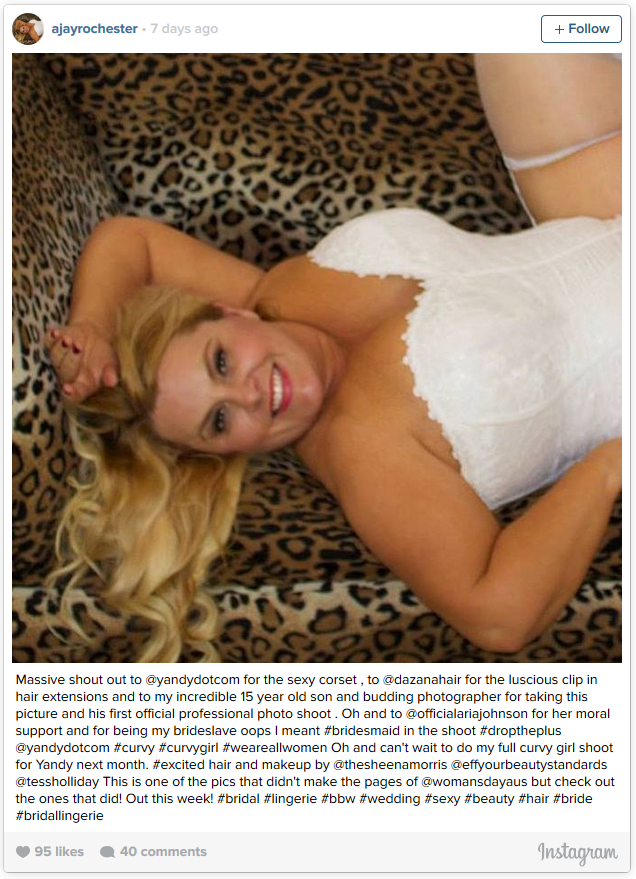 As part of the caption, she thanked her "incredible 15-year-old son and budding photographer for taking this picture… his first official professional photo shoot."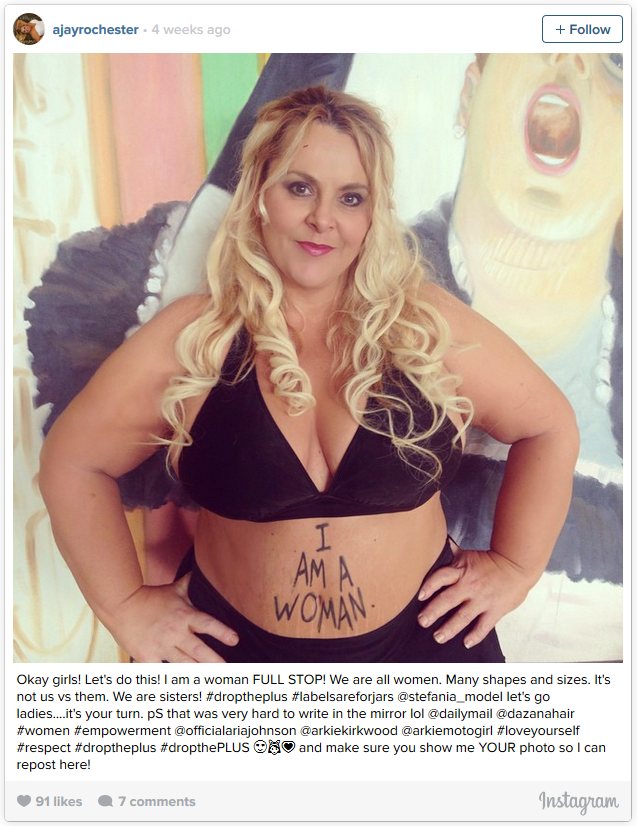 But the 45-year-old's Instagram followers were quick to voice their concerns over the controversial image.
"So creepy that you pose in lingerie for your son to take photos. The words 'sexy' and '15-year-old son' should not be in the same sentence together," wrote one fan.
"No 15-year-old should be taking these sorts of photos of their mother! #notright," commented another.
But Rochester has written a blog titled You can't body shame me! defending the photo, saying she doesn't understand what's wrong with it.
She said her son Kai, who has Aspergers, took the snap after she had been photographed in wedding dresses all day long and was wearing "a full body corset, that was FAR from revealing."
"I had stockings and shoes on and was wearing white shorts. I was pretty much covered 'from head to toe'," she said.
"It was a great pic. It represented a curvy girl, happy in her appearance, relaxing and at ease, with body confidence, comfortable in her own skin."
"It was in fact, a replication of another photo I had done months before with a professional photographer, wearing even less clothing so it showed that he was watching and learning about what works as a pose. Yay for him!," she added.
"Why would you take that photo and make it dirty?"
Rochester's latest online scandal comes after she slammed Biggest Loser trainer Michelle Bridges for copying the title of her diet book and labelled her "a bully."
Want more? Here's one of our fave moments from Jase & Lauren – they're always up to something! Weekdays from 6AM on KIIS 101.1!